AT LEAST 48 HRS NOTICE REQUIRED.
Available when Open: Free local delivery is available on all our Afternoon Tea boxes.
Pre-Payment: Once you submit the form below, we will call you to confirm dates and collect payment by card.
"Thank you so much for our lovely boxes! They were a hit with everyone, and we've all saved bits for our lunch tomorrow as there was so much. Thank you for catering for the different tastes as well."

"Just wanted to say a huge thank you for the amazing afternoon tea you delivered to my Aunt on Monday, she was absolutely over the moon with it and has been enjoying all the treats all week!"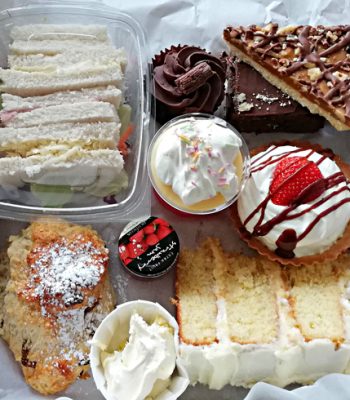 This is our standard one person box which has plenty of goodies for single use or for sharing. You can order this at any time and if it is for a birthday or anniversary, we will add branding and a personal message for you.
Our one person box includes a round of mixed finger sandwiches (Ham, Cheese, Egg Mayo, Tuna & Sweetcorn), Scone with Jam & Cream, Traybakes, Cake, Trifle, Tart.

£17.95 per box
This is our standard two person box. Great for sharing between two people or small families. You can order this at any time and if it is for a birthday or anniversary, we will add branding and a personal message for you.
Our two person box includes two of everything from the one person box!
£30.00 per box
Order some bubbles with your Afternoon Tea
Add 20cl bottle of Prosecco
£4.50
Add 75cl bottle of Prosecco
£12.95
"Thank you so much for arranging the afternoon tea for us. It was so lovely and she really enjoyed it. There was so much food and cake even the neighbours got a slice. Definitely worth the money. Thank you again xx"

"Just wanted to say thank you for the absolutely fantastic service and utterly delicious afternoon teas we've had today. Ginger Cow has been totally exceptional for a lot of years now, but today's treat was more than we expected. I've already put in my order for the Christmas Celebration boxes. Thank you Di and Peter.
Wishing you luck and love in these strange times… you are providing a lot of happiness."
"I was fortunate to ha,be been sent a Gentleman's tea for Father's Day which came from Ginger Cow. It was delivered by a lovely lady, I was amazed to see the cardboard hamper so well thought out, But once opened the surprise continued, packed with an amazing array of food,all packed and presented in a very professional manner, sandwiches salads etc the list goes on and all to a high standard, There was enough food for four people, It felt like afternoon tea at the Ritz Well done Ginger Cow"
Afternoon Tea Box contents are subject to availability and we may occasionally substitute alternative and equal items.