Ginger Cow Café and Bistro is a licensed family run business,
offering quality food and drink combined with friendly and attentive service.
Inside and outside caféteria seating and a fantastic range of freshly prepared hot & cold food and drink as well as delicious cakes and freshly made scones.
Opening Hours
This week's opening times
| | |
| --- | --- |
| Monday: | Closed |
| Tuesday: | Closed |
| Wednesday: | 10am – 3pm |
| Thursday: | 10am – 3pm |
| Friday: | 10am – 3pm |
| Saturday: | 10am – 3pm |
| Sunday: | Closed |
Takeaway Food & Drink
Most menu items are available as Takeway for collection. They can be ordered by Hopt or by phone. Payment can be made by Hopt or at the shop.
Buffets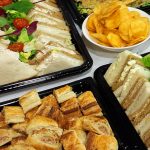 Private Buffets
Distinctive freshly prepared food combined with first class presentation and service. Cater for your next party with Ginger Cow.
"Thank you all so much for your hard work on the 4th. Everything went really well. The afternoon tea and buffet were both gorgeous. A particular favourite of everyone were the gorgeous scones and the chocolate cake! Yourself and your staff were lovely and nothing was to much trouble. Your service was exactly what we wanted for our wedding and the afternoon tea just set the mood perfectly." ⇒
Book a Table
Booking is required.
We had a afternoon tea with you yesterday just wanted to say thank you so much for your beautiful spread it made our day very special. And we have just finished off the cakes this lunchtime. many thanks again.
Our Favourites
Here's a few of our favourite items on the menu to get you going…
The Ultimate Breakfast
Not too big and not too small – the perfect full breakfast to start the day. The Ultimate Breakfast also includes hash brown, black pudding, fried bread and tea or coffee. Great as a morning after boost (as proven by many!).
Club Sandwich
Always popular at lunch time, this full sandwich is a toasted triple decker with chicken, bacon, lettuce, tomato and mayo. More like meal and served on a larger plate you won't be disappointed with presentation or flavour.
Paninis
Paninis are the ultimate finger food – easy to eat as a snack and filling enough to have for your lunch (or any time you like of course!).
We have a full range to choose from and two popular ones are Bacon, Brie & Redcurrent Jelly (v)  and our Chicken, Bacon, Mayo & Cheese.
Cappuccino
A traditional Italian cappuccino just like it's made in Italy. A single or double espresso shot topped with equal parts steamed and foamed milk which means you quickly reach the coffee. Finished with a layer of silky foam on top.
The foam that tops a cappuccino acts as a natural insulator, keeping the drink warmer longer. The traditional cappuccino does not have chocolate added on top (however if you would like some, that's not a problem).
Choose from an extensive range of Milkshakes which are blended together with your favourite candy bar. We do them thick and if it isn't thick enough, tell us and we'll redo it for you.
Our delicious range of Love Smoothies are healthy and made simply with fruit and our special Ginger Cow smoothie juice. Smoothies are not just for summer either – your body benefits from them in the winter also.
Lovely ambiance, lovely food, lovely drink, lovely owners. Car park opposite, plus cake shop and deli. Di and Peter have made this upmarket establishment a great place to visit. Always a warm welcome.

We were absolutely delighted with the food and service received from yourselves, is was fantastic. The food was delicious and so many of our guests commented on just how good it was. There was plenty of food and lots of variety and it looked wonderful when it was laid out. The whole process of planning with you was incredibly easy and it was a real joy to have you cater for us. Many many thanks 🙂

Came for afternoon tea with the girls for my 50th birthday while we were on holiday in Lincolnshire service was fantastic and so was the food would highly recommend this place thank you for looking after us so well
Best Business Award for 2016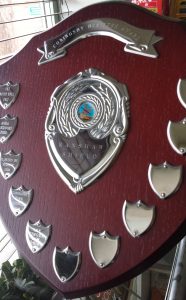 Food Hygeine Rating