"Just wanted to say, as ever hubby and I had a lovely lunch today, can't find how to leave a review on Facebook so here it is, always greeted with a friendly hello, food was delicious, had a BLT in a cafe in Lincoln last week and was not a patch on the one I had today, am always recommending Ginger Cow to visitors that ask where there is to eat when they visit my historic place of work, never disappointed with the food or service received from this family run business, thank you, the village would be lost without this cafe. 5 stars all the way xx"⇒
This week's opening times

| | |
| --- | --- |
| Monday: | Closed |
| Tuesday: | 10am – 3pm |
| Wednesday: | 10am – 4pm |
| Thursday: | 10am – 4pm |
| Friday: | 10am – 4pm |
| Saturday: | 10am – 4pm |
| Sunday: | Closed |
"What lovely food and service we all experienced today. We all felt so safe, ginger cow have gone above nd beyond to put up special measures to keep staff and customers safe and it didn't go unnoticed. And the milkshakes… Well… 'they are better than disneyworld shakes' and that's saying something!! Keep up the good work xxx."⇒
"We visited last week for afternoon tea and it was absolutely fantastic we had a children's afternoon tea and two adults and we had enough cake to keep us going for a few days after!
This week we visited again for breakfast, the food was cooked to perfection.
The staff were absolutely lovely, very friendly and helpful. They made so much effort with cleaning down the tables, chairs and the menus after each customer. Definitely made you feel safe.
Thank you very much we will be returning"⇒
"So I bought 2 afternoon teas to take out for my mothers birthday … oh my days these are bigger than I remember a few months ago! Managed to feed 2 adults plus a child then carry on each day having a treat for 3 days! She was so impressed and we all enjoyed every bit. Couldn't believe the value, we really don't know how they can do it for the price 🥰 We even commented how there is so much more than a local establishment's afternoon tea. Blown away yet again and would definitely recommend."⇒
"We had a afternoon tea with you yesterday just wanted to say thank you so much for your beautiful spread it made our day very special. And we have just finished off the cakes this lunchtime. many thanks again."⇒
Ginger Cow menus cover a wide range of hot and cold food and drinks, including our famous smoothies and milkshakes. Our meals are hand-prepared with care on the premises and using fresh ingredients and where possible using use local suppliers to support our own community.
PLEASE NOTE
Menu items are subject to availability which with the current situation can vary from day to day.  Some dishes may contain nuts or other allergens and so please inform us every time if you have any specific allergies – do not rely on the fact that you have ordered previously because we may have changed some of the ingredients.
Breakfast
Our Breakfast Menu offers anything from a simple bacon bap to our a Full English Breakfast. We also offer Vegetarian and Children's Breakfasts.
Pictured here is an example of a Full English with added Black Pudding.
Or you could order one of our quality specials such as Eggs Benedict (English Muffin, Bacon, Poached Eggs and Hollandaise Sauce).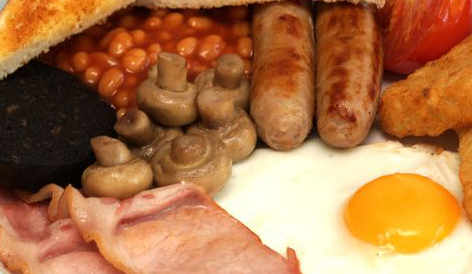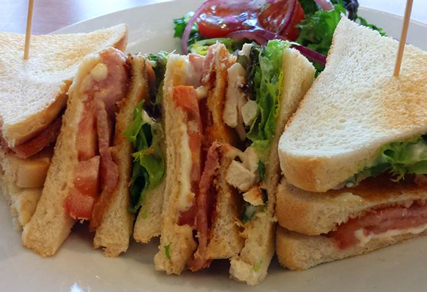 Sandwiches & Toasties
All our sandwiches are freshly made each day and available on white or granary and toasted if preferred. We can also supply a pot of our famous homemade coleslaw.
Pictured here is our delicious Club Sandwich.
Or you could try a delicious Fish Finger Sandwich (or Bap) with Tartare Sauce or Ketchup (just like Mum used to cook when we were kids)
Paninis
We have an extensive Panini range including our popular Bacon, Brie & Redcurrent Jelly (v)  and our Chicken, Bacon, Mayo & Cheese.
Pictured here is our Chilli Panini
Salad and coleslaw are not included in Takeaway Paninis – but we can add it as an extra if you wish.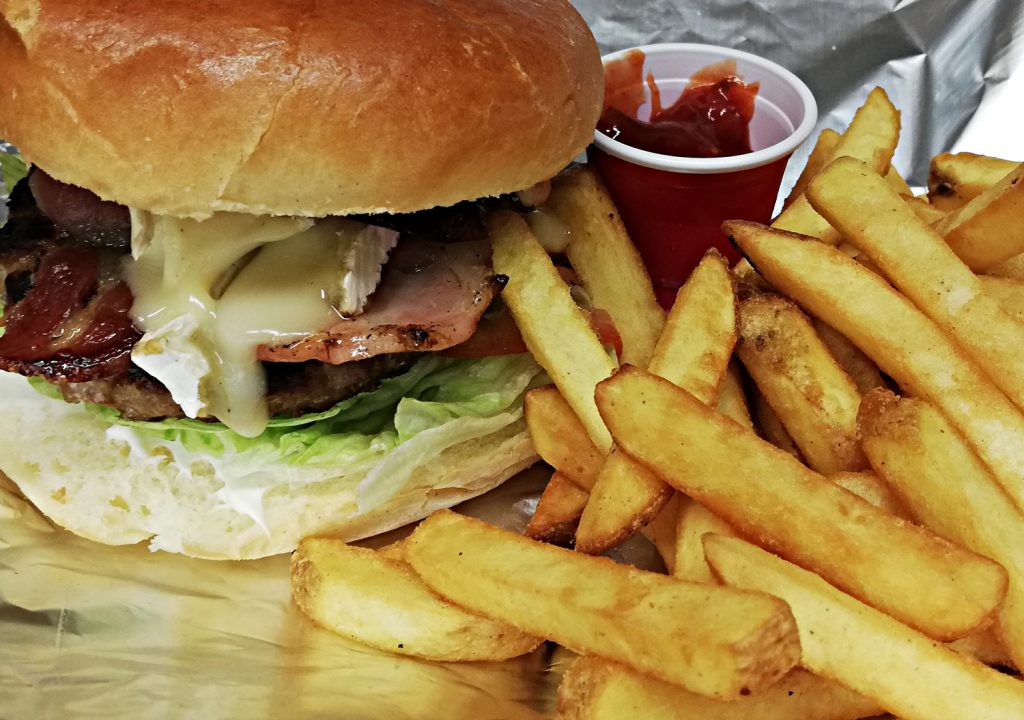 Burgers
Our Burger range is served on a Brioche Bun with Onion Rings and you can choose from a Blue, Brie Bacon & Cranberry, Pulled Pork & Cheese, Cheese, Bacon & Egg with Cheese. Add gluten free Skinny Fries or Chunky Chips or Sweet Potato Fries.
Pictured here is a Brie Bacon & Cranberry Burger
Served with Salad Garnish and Homemade Coleslaw (for takeaway we can add these separately if you wish).
Special Cream Tea
Our Special Cream Teas consist of a Scone with Strawberry Jam & Clotted Cream, selection of Sandwiches on white/wholegrain, Slice of 4-Tier Layer Cake and a Traybake.
Pictured here is our Special Cream Tea to Eat-in and includes Tea or Coffee
Tea & Coffee are not included in the takeaway version.